Asakura Hana
Talk

3
389pages on
this wiki
Asakura Hana


Statistics
Japanese Name:
麻倉花
Romanized Name:
Asakura Hana
English Name:
Hana Asakura
First Appearance:
Funbari no Uta Chapter 1(Manga)
Affiliations:
Asakura Family
Occupations:
Shaman
Epithet:
n/a
Japanese VA:
n/a
English VA:
n/a
Guardian Ghost
Japanese Name:
Amidamaru
English Name:
Amidamaru
Meaning:
"The Darling Of Buddha"
Type:
Serei Class
Asakura Hana (麻倉花, Asakura Hana) is the protagonist of Funbari no Uta and Hana's Epoch. He is the son of Asakura Yoh and Asakura Anna, and is the main heir to the Asakura Family after his father.
Appearance
Edit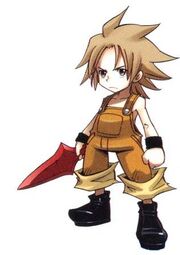 Hana has unruly blond hair and he has the same eye colour as his mother Anna. In his early appearances he wore an orange jumper and he carried the Futsu-no-Mitama no Tsurugi. Hana has also been shown wearing the same cloak of his uncle Asakura Hao.
In his teens he has grown considerably and after starting school he begins to wear his school uniform all day in a manner similar to his father, though with a black shirt beneath instead of a bare upper body. He also wears orange headphones similar to his father.
Personality
Edit
He seemed to inherit both his father and mother's personality although this could be because he was working for his "mother". He also fears his "mother" the same way Yoh fears Anna. He can be very mean and is shown to have the same bad temper as his mother and can be quite violent when angered. Like his father and grandfather he appears to be a fan of Soul Bob. He also inherited his mother's famous 'Legendary Left'
Although he attends school, he hates to study because he does not believe he needs it. Instead he would rather fight like his father and friends did during the Shaman Fights and believe they did it so that they could skip classes. It is only because of his fear of Tamamura Tamao that he goes to school.
Abillities and Powers
Edit
According to Amidamaru, Hana has more potential than his father as a Shaman, both physically and mentally. According to Ryu he has the same strength as his mother and he even has a phantom left kick. At the age of 7 he already had the ability to form an Over Soul.
Futsu-no-Mitama no Tsurugi
The Futsu-no-Mitama no Tsurugi (Antiquity in the English Anime) is a red sword shaped rock that has been owned by the Asakura Family ever since the time of Asakura Hao. According to Hao it was once owned by a sword god and even though it's only made of rock, it is the perfect medium to create a sword oversoul. That sword which slumbers in a storage room of the Asakura Family, always creates a stir in the world when surfaced since it's a national treasure.[1]
See More: Amidamaru
Hana has inherited his father's spirit ally, Amidamaru. Using the Futsu-no-Mitama no Tsurugi he is able to create a simple Over Soul with a a demonic head as an arm guard and a cleaver like blade.
Hana has demonstrated the skill to summon Onis is like his mother, Anna. This can only be performed when his life is in danger. The ability was given to him by his uncle Asakura Hao after he revived him from when his body was blown up in the Middle East.
He is the six year old son of Asakura Yoh and Asakura Anna who is now traveling with Umemiya Ryunosuke, but is currently in the custody of Tamamura Tamao whom he believes is his real mother.
Funbari no Uta
Edit
Introduced as a 6 year old, he is under the guardianship of Tamao. In the shorts, he works with Ryu to search for The Five Elemental Warriors. After meeting with four of the warriors and hearing them talk about the final encounter with Asakura Hao, his father and mother suddenly arrives, with his father saying that everything will work out in the end because that is what they promised him. Stuttering "Fa... Father" Hana suddenly attacks his father with a "Welcome Kick".[2]
At 13 years old, Hana has been skipping classes. As he walks home one day, he complains to Amidamaru that he does not care that he has to study, only for Amidamaru to tell him that he is the important heir to the Asakura Family, who must protect and keep the lineage amongst others for the next Shaman Fight. When Hana reveals that he does not care about the next Shaman Fight because it is so far ahead and that he would like to skip classes to fight like his father and friends did so many years ago, Amidamaru manifests his whole spiritual form scaring Hana but also explains that "Yoh-Dono" had to do so and berates him for saying so. However Hana just punches Amidamaru and reminds him that he is also a shaman and reveals that he does not wish to study, but just simply be a shaman and fight like his father.
His uncle Asakura Hao however appears to him, and reveals that it is time for him to meet his future wife. Anna III then appears and tease him about being alone with all those cats. She reveals her background and challenges Hana saying that if he wins, she will let him marry her.
Anime/Manga Difference
Edit
The name "Hana" means flower. Hana's name comes from the conjunction of the characters in Yoh (葉, also pronounced as Ha) and Anna's (ナ, Na) names.
According to Ryu, one can tell who his mother is, from his kick.
References
Edit
↑ Shaman King Manga - Chapter 129; Page 5
↑ Shaman King Manga - Chapter 300; Page 25
External Links
Edit