Big Pig
Statistics
Japanese Name:
English Name:
War Pig
Meaning:
n/a
First Appearance:
Episode 48 (anime)
Type:
Animal Spirit
Reiryoku Level:
Unknown
Shaman:
Aiyomi
Big Pig () is a spirit from anime series of Shaman King.
Oversouls and Attacks
Edit
Unamed O.S.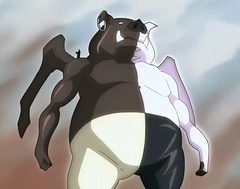 Attacks
Anime/Manga Differences
Edit
Big Pig is only anime spirit is never shown in the manga.
The English name of Big Pig is War Pig is based on title of song called "War Pigs" of a band named Black Sabbath. one of the Name of Big Pig's attacks are also basic on a title of a song called "Heaven and Hell".
References
Edit
External Links
Edit
Ad blocker interference detected!
Wikia is a free-to-use site that makes money from advertising. We have a modified experience for viewers using ad blockers

Wikia is not accessible if you've made further modifications. Remove the custom ad blocker rule(s) and the page will load as expected.