Black Sickle
Statistics
Japanese Name:
ブラックシクル
English Name:
Black Sickle
Bison[1]
Meaning:
n/a
First Appearance:
Chapter 284 (Manga)
Episode 60 (Anime)
Type:
Animal Spirit
Reiryoku Level:
3,300
Shaman:
Kalim of the Ten Patch Officiants
Black Sickle (ブラックシクル,Burak Kushikuru) is a bull spirit and the guardian ghost of Kalim.
Black Sickle is a large black bull, animal spirit, that belongs to Kalim of the Ten Patch Officiants. This spirit grants Kalim both amazing strength and speed.
Because it still has its original form it can be questioned if it has evolved into a Seirei-Class spirit. It is most likely based on the Texas Longhorn species.

Oversouls and Attacks
Edit
O.S. Black Sickle
Edit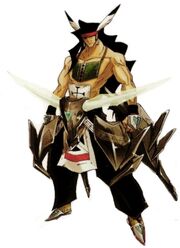 O.S. "Black Sickle"(O.S. ブラックシクル)
O.S. Type: Spirit Type
Spirit Ally: Black Sickle(Bull Spirit)
Medium(s) Used: Hatchet & Bull bones and skull, attached to Kalim`s pants
Description: By using his hatchet and the skull and bones from a bull attached to his pants, Kalim can completely materialize the body (except for the tail) of his black bull spirit Black Sickle onto his legs, giving him a centaur like-form. With this Oversoul Kalim gains incredible speed and strength, that can deal severe damage to anyone, Kalim can also completely control the bull body. This Over Soul was first seen when Asakura Yoh and his friends arrived at the Plant of the Plains, where Horohoro instantly attacked Kalim. After easily crushing the ice, Kalim generated the Oversoul and punched Horohoro so hard in the gut that he was knocked out. In his second appearance the Oversoul gains a more mechanical appearance.

Attacks
Run Bull Bull Bullarm(ランブルブル|アム): An attack where Kalim uses the hoves of Black Sickle to viciously stomp the ground.[2]
Bone Dead Bone(ボ|ンラッドボ|ン): Using the incredible speed of Black Sickle and the strength of it's horns, Kalim charges his opponents crushing everything in his path.[3]
Anime/Manga Difference
Edit
In the anime, Black Sickle is represented as a red bull while the bottom half represented as a Centaur.

References
Edit
↑ Shaman King Manga - Chapter 287; Page 12
↑ Shaman King Manga - Chapter 287; Page 14-15
External Links
Edit
Texas Longhorn - A Wikipedia Article about Black Sickle's animal species.
Ad blocker interference detected!
Wikia is a free-to-use site that makes money from advertising. We have a modified experience for viewers using ad blockers

Wikia is not accessible if you've made further modifications. Remove the custom ad blocker rule(s) and the page will load as expected.