Boris Tepes Dracula
Talk

0
389pages on
this wiki
Boris Tepes Dracula


Statistics
Japanese Name:
ボリス・ツエペシユ・ドラキユラ
Romanized Name:
Borisu Tsuepeshiyu Dorakiyura
English Name:
Boris Tepper Dracula (Game) [1]
Boris Tepes Dracula III(Anime) [2]
First Appearance:
Chapter 95(Manga)
Episode 33 (Anime)
Affiliations:
Hao's followers
Team "Kaze-Gumi"
Occupations:
Shaman
Epithet:
n/a
Japanese VA:
Koji Ishii
English VA:
Oliver Wyman
Furyoku Level:
3,000
Guardian Ghost
Japanese Name:
Blamuro the Vampire Hunter
English Name:
Blaumro
Meaning:
n/a
Type:
Human Class
Boris Tepes Dracula (ボリス・ツエペシユ・ドラキユラ, Borisu Tsuepeshiyu Dorakiyura, Boris Tepes Dracula III in the English Anime) is a fictional character in the manga and anime series of Shaman King. He claims to be a vampire, and his ancestors were seen as vampires and hunted because of it. Asakura Hao saves him and he decides to join Hao, wishing to claim revenge on humanity.
Appearance
Edit
A tall, broad shouldered and muscular man, Boris wears the typical clothing of the middle ages Romanian nobles, consisting of black pants, a black vest and a pair of black boots and gloves, with a white shirt beneath. He has spiky blonde hair in a triangular shape on each side of his head and two big strands on each side of his face
He also carries a Rapier, used by Blamuro the Vampire Hunter centuries ago, that Boris would eventually use.
Boris also wears a huge Romanian cape that can apparently transform into a pair of bat wings with several spikes, to impale his opponents. All of his clothing seemingly has golden yellow lining on them
Personality
Edit
An odd Shaman, Boris seems very proud of his so called vampire lineage even to the point of completely breaking down when Horohoro suggests that his teammate Damayji looked even more like Dracula. This would in turn result in him stabbing him with his rapier and and later turning him into dust as his body was littering the nature Hao loved so much.
Abilities and Powers
Edit
Boris uses his own blood as his medium, taking the form of a cape. With it, he can drain blood from others, quickly heals himself and create spikes to impale other people with.
Healing factor: Boris uses Blamuro to concentrate the platelets and white blood cells and uses it to heal himself of all wounds but this ability was not shown in the anime
Vampire Bats: Using small Vampire Bat Spirits with his own blood as the medium. Boris can use the many small over souls to gather them back to heal him,form a cape. or even a stronger over soul. This ability was shown in the anime
Mist Blood surprise: Boris changes his blood to a mist form allowing him to attack suddenly from almost any angle. this ability was not shown in the anime
Blood Spikes: Boris charges his blood with the vampire bats with spiritual power and creates blood spikes, that are held by the bats. He then can instantly impale all of his opponent on the spikes. It is supposed to kill instantly but this was never seen as "Wooden Sword" Ryu and Horohoro quickly blocked of the spikes before he could use them.
Illusion: The Illusion ability can be useful to Boris's ability is just apart of his own image. He can also use his own at his enemies and and throw them off guard, thus making it hard so his opponents cannot even see him clearly though he is right behind of them when they hit the Illusion. The image will disappear and boris will reappear behind them by biting his enemies off guard [3]
See More: Blamuro the Vampire Hunter
Boris' guardian ghost is the vampire hunter Blamuro. Blamuro had originally hunted down members of Boris' family, but was captured and tortured until he no longer knew right from wrong.
The descendant of the Vlad Tepes Dracula of Wallachia, Boris was one of Asakura Hao's followers. Vlad, known as the Impaler, defended his country but was branded a vampire for what he did. Although his family is human, they gained shamanic powers from Asakura Hao (in his first reincarnation, when he was born into the Patch Tribe). Boris is usually grim, brooding over the fate of his family, but he has vowed too serve Asakura Hao forever.
Travel Through America
Edit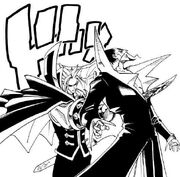 Boris and his team runs into Yoh and company outside the Patch village. They remark how much Yoh looks like Hao. Boris cuts Ryu's hair and bites Lyserg. Boris flies and says he is vampire. Yoh and company say that Boris can't be one since the whole sunlight and cross thing. Horohoro says his teammate looks more like a vampire than Boris. Not handling the comment well, Boris impales his teammate killing him. Turbine tells Boris to take it easy but his death was worthless since he should not have been killed so easily. Boris proceeds to use his bat wings to drain his teammate of his blood effecttivly turning his body into dust.[4]
Boris attacks Yoh and company. Ryu punches Boris in the face and reverts back to his "wooden sword" Ryu personality. Turbine and the rest of Hao's followers leave knowing they can not control Boris anymore. Ryu oversouls and launches a attack against Boris cutting him open. Boris comes from behind healed from the injuries but Ryu hits him in the nose. Boris uses his blood bats to drain Ryu's blood and Tokegreo runs. Boris explains some of his past history and Ryu gets back up saying that he will finish this.
Tokagero reveals that the oversoul is made of blood and Ryu comments that he knows what Boris is. Ryu knows the felling of loneliness and rejection. Boris force his ghost to get Lyserg to pin Yoh down. Boris drains blood from everyone but Yoh and company in the area and creates blood spikes. The bats ready to drop the spikes and Lyserg holds Harusame to his neck due to Boris' ghost. Boris releases his spikes and the gang stops them. Boris orders his ghost to kill but his ghost is already out in the open back to his original personality.
Ryu uses the Yamata no Orochi attack to defeat Boris but before doing that Ryu says that "those who choose the path of destruction accomplish nothing". Boris lands on a mesa not far from where he was flying at. Yoh climbs up to check on him but Boris is stabbed by Michael, the Archangel, thanks to Marco Lasso.
Invading the Plants
Edit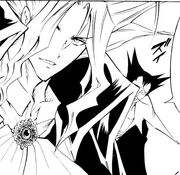 He is seen on the Soul Train within the Great Spirit, standing next to Kouji.[5]

Anime/Manga Difference
Edit
In the 4Kids dub, he was given a deep Romanian accent and his death was edited out.
References
Edit
External Links
Edit