Magnescope
Talk

2
389pages on
this wiki
Magnescope


Statistics
Japanese Name:
マグネスコープ
English Name:
Magnescope
Meaning:
n/a
First Appearance:
Chapter 161 (manga)
Type:
Seirei Class
Reiryoku Level:
4,000
Shaman:
Magna of the Ten Patch Officiants
Magnescope(マグネスコープ, magunesukopu) is the spirit of an owl and the guardian ghost of Magna.
According to Magna, Magnescope is able to fly silently even in darkness and is an professional sniper, both qualities that are carried over to Magna's full-body oversoul.
When completly oversouled in it's original form, it is strong enough to knock over Faust VIII's wheelchair, even though Magnescope is relatively small in size.
Oversouls and Attacks
Edit
O.S. Magnescope
Edit
O.S. "Magnescope "(O.S. マグネスコープ)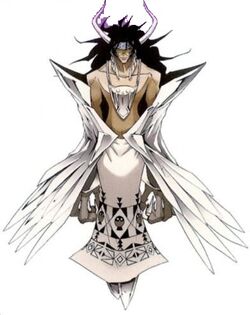 O.S. Type: Full Body Type
Spirit Ally: Magnescope
Medium used: Owl Feathers
Description: By using owl feathers around his neck, Magna can create a metallic armour on his back that creates owl wings on his arms, thus allowing flight, and sprouts gigantic owl legs on each side of his hips.
With this oversoul, Magna gains the same lightning fast movements and also the night vision ability that his guardian ghost, Magnescope, possesses. His claws are strong enough to completely crush iron, as seen with the Iron Maiden, and according to himself also able to crush the likes of an anaconda. However, the claws are only meant to grab and crush, not scratch, making the oversoul largely ineffective in close combat.
However Magna can compensate for this due to the lightning speed and stealth abilities granted to him by his owl ghost and can, if hidden, suddenly attack an enemy, appearing out of nowhere and crush them easily with his claws, just like an owl does.

Attacks
Hunting: The special ability of this Over Soul. With this, Magna can move unheard and unseen, just like an owl.
Anime/Manga Difference
Edit
Because Magna never appeared in the anime series neither did Magnescope.
References
Edit
External Links
Edit
Owl A wikipedia article about the owl.