Mama
Statistics
Japanese Name:
ママ
English Name:
Mana
Mama[1]
Meaning:
"Mother"
First Appearance:
Chapter 208 (Manga)
Episode 42 (Anime)
Type:
Animal spirit
Reiryoku Level:
1,200
Shaman:
Opacho
Mama (ママ, Mama, Mana in the English anime) is the guardian ghost of Opacho
Mama is the guardian spirit of Opacho. Although her true form is not seen in the series, its believed to take the form of a sheep.

Oversouls and Attacks
Edit
O.S. "Ram"
Edit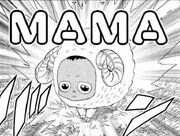 O.S. Ram
Description: Using her hair, Opacho creates an Oversoul in the shape of a sheep around her body. The Oversoul has a great offensive power as a single hit from it was able to break all of the bones in Umemiya Ryunosuke's body.

Anime/Manga Difference
Edit
References
Edit
External Links
Edit
Ad blocker interference detected!
Wikia is a free-to-use site that makes money from advertising. We have a modified experience for viewers using ad blockers

Wikia is not accessible if you've made further modifications. Remove the custom ad blocker rule(s) and the page will load as expected.