Spirit of Earth
Statistics
Japanese Name:
スピリット・オブ・アース
English Name:
Spirit of Earth
Meaning:
n/a
First Appearance:
Chapter 256 (manga)
Type:
Kami Class
Reiryoku Level:
330,000
Shaman:
Asakura Yoh
The Spirit of Earth (スピリット・オブ・アース, Supiritto Obu Asu) is one of the Five Grand Elemental Spirits (Godaiseirei), that was created by the Great Spirit itself. According to Lady Sati it belongs to Asakura Yoh.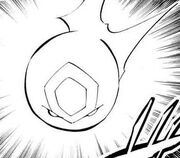 The Spirit of Earth is one of five powerful elemental spirits known as the Grand Elemental Spirits (Godaiseirei), of the Patch Tribe. They are derived from the Great Spirit itself, and like it, constitute a collective of souls. They can be controlled by their respective Elemental Warrior, or a shaman of extraordinary power (like Asakura Hao). The power of the Godaiseirei is unmatched by any other spirit, except for the Great Spirit itself.
According to Pascal Avaf, the Spirit of Earth gives life to plants and creates metal.[1] Also, according to the recent Kang Zeng Bang Data, the Spirit of Earth has the same abilities as the Spirit of Fire to become stronger by consuming souls.[2]
After Patch Hao stole the Spirit of Fire, it was hidden by the Patch Tribe to avoid any other of the Grand Elemental Spirits to be stolen, within the depths of hell and guarded by Enma Daioh, the greatest of the four Kings of Hell.
Saigan Sati and the Gandhara went to Hell to get the Five Elemental Spirits and deliver them to the Five Elemental Warriors. The Spirit of Earth was given to Yoh and was used to fight against Asakura Hao in the Great Spirit. After the fight, Yoh kept it and used it to get out of trouble when in great danger.
Funbari no Uta
Edit
Oversouls and Attacks
Edit
O.S. Spirit of Earth
Edit
O.S. Spirit of Earth (O.S. スピリット・オブ・アース)[3]
Description: When Oversouled by Asakura Yoh it gains its entire body. Its movements seem to follow that of Yoh himself. The Spirit of Earth can also manipulate gravity, enough to counter the gravity of a black hole and allow those who are affected by Spirit of Earth's gravity to move freely.

Attacks
Anime/Manga Difference
Edit
The Spirit of Earth does not appear in the anime, as Spirit of Fire appears to be a single, powerful entity under the Patch's control rather than a member of this group, though it was mentioned that there were four other spirits worshiped by the Patch other than the Spirit of Fire.[4]
References
Edit
External Links
Edit
Ad blocker interference detected!
Wikia is a free-to-use site that makes money from advertising. We have a modified experience for viewers using ad blockers

Wikia is not accessible if you've made further modifications. Remove the custom ad blocker rule(s) and the page will load as expected.